Greetings, Bachelorette fans! Kim from Head Over Feels to once again bring you gif reactions to the best soundbites from Andi's season of The Bachelorette. This week's episode presented an interesting challenge as a recapper. As I am sure you all know, the recipient of the first one on one date, Eric, passed away not long after his time on the show. I feel funny snarking on a dead guy (who also seemed like a really great person), so while Eric had MANY snarkable soundbites, I've chosen not to make fun of them. It just doesn't feel right to me. So there you go!
Also I used ALL the Magic Mike gifs for the group date, and I'm not even sorry.
To the quotes!
"Snowboarding for me is almost as bad as dancing." –Andi
Okay, this quote is from the date with Eric, but I couldn't resist the opportunity to make fun of Andi a little, as she notoriously was not a fan of the group dancing activity on Juan Pablo's season.
"I think I could take down some bears pretty easy." –Marquel
Marquel is this season's Kelly when it comes to humorous observations, so I hope Andi keeps him around for awhile.
"If I have to get in a man thong and dance on stage, that's gonna suck." –Marcus
You knew he was destined for the solo as soon as he said that.
"I'm stripping for a sexy girl. Life is good." –Cody
"We're sexy Cowboys by the way. Don't get confused." –Craig
I know Craig gets SUPER drunk and inappropriate later, but his interviews were hysterical. He seems permanently stuck in the Frat house, no?
"Check out the packages." –Andi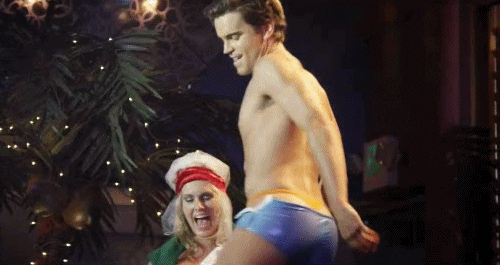 Andi, Sharleen, and Kelly know what's what.
"They worked it. Some of them looked like they had WORKED it before." –Andi
"It's one thing to be drunk and funny but at the same time, understand you are on a date." –Andi on Craig
Craig is a LOUD and obnoxious drunk, for those of you taking notes. However, this just showcases the differences between The Bachelor and The Bachelorette as this same situation with Juan Pablo resulted in a girl sobbing and wishing him death from a bathroom stall.
"It just makes me wonder if I'm even doing the right thing by being here." –Andi
I can safely say you're not.
"I'm already a winner." –Chris
Sweet, sweet Farmer Chris. You're FAR too earnest for this shindig.
Not a quote but a moment: Nick V. making here a date card.
He's SO delightfully nerdy, I want him to by MY boyfriend. (Though is he the one accused of having a girlfriend in the previews? Me so sad if so.)
"I'm waiting for her to come over and tell me she's got one more rose for me. " –Carl
Sad panda.
"I'm trying to NOT to totally freak and break down." –Nick
Womp womp.
Eliminated: Carl, Nick, and Drunky McDrunkerson
Next week ABC is giving us a double dose of episodes with one on Sunday AND Monday and it looks like the drama is FINALLY starting. See you then!