Greetings Bachelorette fans! Kim from Head Over Feels to once again bring you my favorite soundbites of the episode. In our second episode of the week (KILLING ME ABC), Andi and the Guys travel to the exotic land of Connecticut, where they stay at the shiny Mohegan Resort and Casino. As a New Yorker, I chuckled a bit at this trip, but it DID look quite beautiful, I'll give them that.
The promos had been hyping the UBER DRAMA that was to take place in this episode all season. Did the hype pay off? I'll let you be the judge of that.
"I don't want them to get too hot and steamy though." –Marquel
That description just always makes me think of Mark showing up in Season Three of Grey's Anatomy. You're welcome.
"I want to see the real Dylan sooner rather than later." –Andi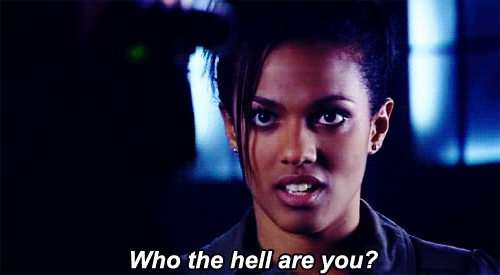 I smell an ultimatum.
"Let's be honest. They completely schooled the guys." –Andi on the WNBA players
"There's a lot of testosterone flowing around." –Andrew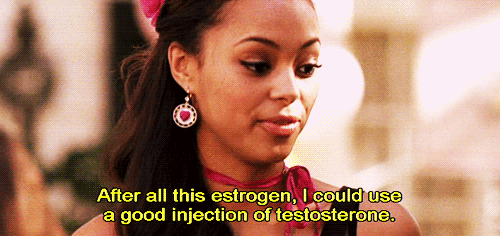 Eye Roll
"We're champions. We wake up in the morning and breathe excellence." — Marquel
"The coach is sexy." –Andi
And thus, I will always use Coach Taylor gifs for Brian.
"I am so bad at reading signs." –Brian
As Barney Stinson would say, she was giving you the signal dude.
"Getting this rose is better than winning the State Championship." –Brian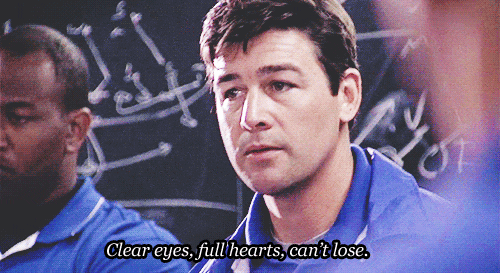 Aw, how is your team gonna feel when they hear you say that, Coach?
"I feel like I'm walking the plank." –Andi
They do a date like this EVERY SEASON, so it amazes me when people are surprised by this.
"I need to be the man in this relationship and hide my fear." –Marcus
I was not at all convinced he was afraid, btw. He got off that ledge and settled into the proper stance far too easily.
"There's no crying in Rappelling." –JJ (I think?)
JJ is clearly a fan of A League of Their Own…
"He literally got me off that ledge." –Andi
"I'm falling in love with you." –Marcus
Ted Mosby much, Marcus? YOU ARE ON YOUR FIRST DATE WITH HER.
"I came on this to meet a person, not a TV actress." –Eric
I don't know why Eric thought this was a good time to take this line of conversation. And I GET what he was trying to say…but it's widely known that Bachelors/Bachelorettes HAVE to play their cards close to the chest because Producers TELL them to. It's not an interesting show if we know right away which guy Andi wants to pick (and they often say that they DO know relatively early). That being said, I think Andi has done a good job at trying to be as open about her feelings as possible so far, so it really felt out of left field.
"You're looking me in the eye and telling me I have a poker face on?" –Andi
See above rant.
"If you say the word acting one more time, I'm probably going to lose it." –Andi
Eliminated: Eric, Tasos (as Chris Harrison told us later, as they chose not to air the rose ceremony and instead talk about Eric)
Our show takes a mini-break and is off this coming Monday, so I'll see you in two weeks!